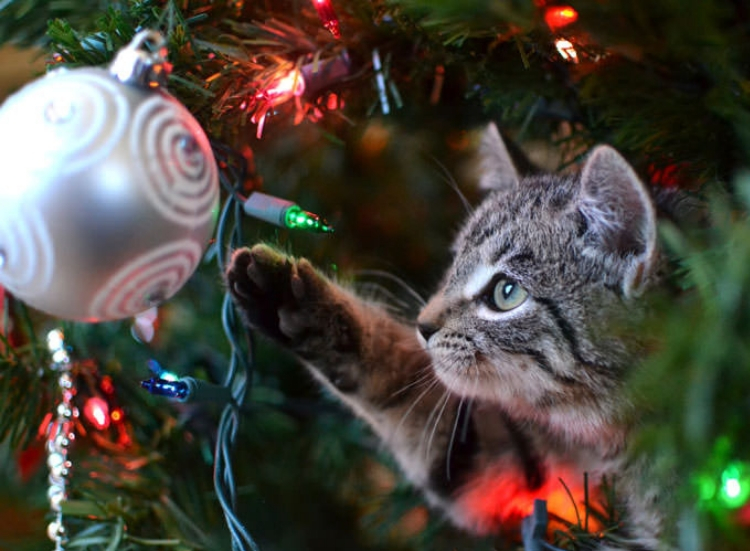 It's that time of year again… Hot chocolate by the fire, time with family and friends and of course, much needed rests with our cats after a busy year! Lots of you are no doubt starting to erect your Christmas Trees and blowing dust off Christmas Decorations from the loft and getting ready to get… Read more »
It's that time of year again…
Hot chocolate by the fire, time with family and friends and of course, much needed rests with our cats after a busy year!
Lots of you are no doubt starting to erect your Christmas Trees and blowing dust off Christmas Decorations from the loft and getting ready to get your home feeling festive.
Although this is a wonderful time of year it is important to remember that some of these sweet looking decorations can pose serious threats to our animals.
Cats are naturally curious beings, diving straight up any Christmas tree they can get their little paws on!
They will tug and bite at any hanging objects from said tree too no doubt and although this may lead to many cute photos and fun stories to tell the family at Christmas Dinner it is absolutely vital we as pet owner's understand the potential dangers for our cats.
First and foremost be aware of what items can be dangerous, for example artificial snow is toxic so if ingested by your cat could cause serious health repercussions.
Perhaps consider the less shiny of decorations too so as not to have them entice your cat TOO much! Sharp tinsel, if ingested by your cat could also be really dangerous for them so really consider what material your tinsel is before decorating the tree.
Also consider plastic ball-balls instead of glass, to avoid any breakages and sharp materials being left around for little paws to be cut on.
Simply being aware of these potential threats will mean you are ahead of the game in keeping your little cats safe over the holiday period.
Above all else, remember to show your gorgeous cats how much you love them this Christmas!
It's another year you have learnt from one another and grown together and that's something to definitely be thankful for!