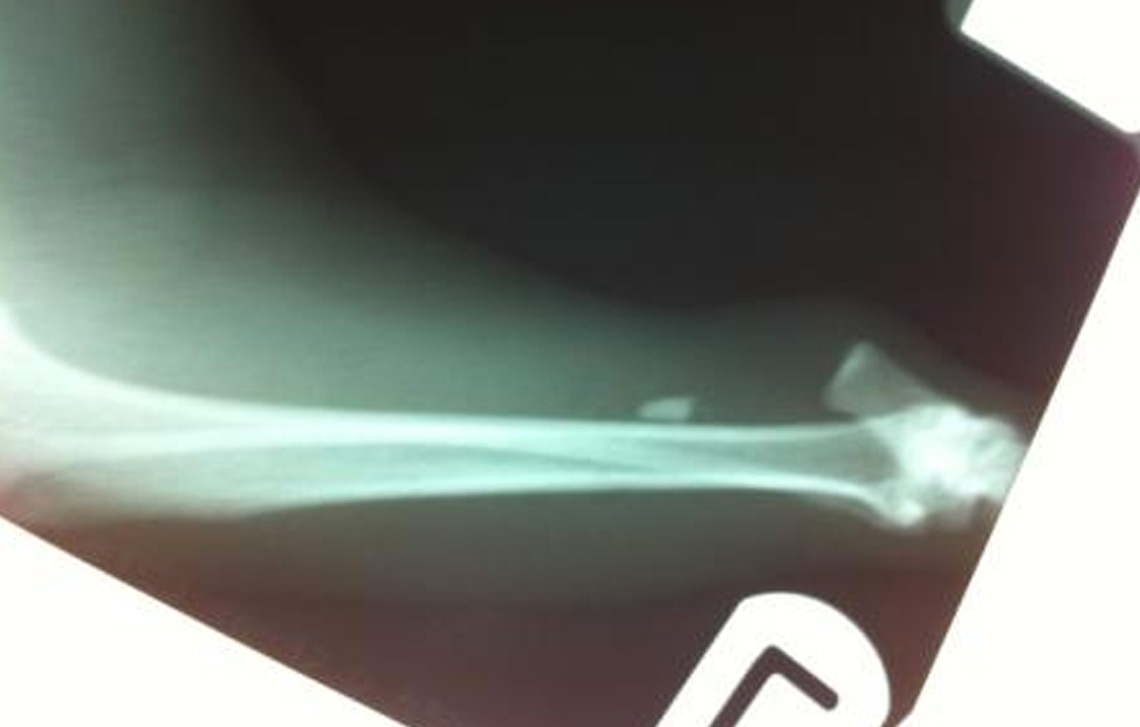 We first met Meg and her sister Lottie in September 2010 while they were being cared for by Worthing Cat Welfare Trust.
Thankfully these gorgeous young cats did not have to wait long before finding a lovely family to adopt and train to tend to their every need.
After settling in well, Meg has discovered the great outdoors and on Sunday night she had an unfortunate encounter with a particularly aggressive cat. Her owner got up on Monday morning to discover Meg could not use her left back leg and was in a lot of pain, her worried owner rushed her in to the clinic and Meg was admitted for x-rays and treatment.
Meg was still in a lot of pain even after strong pain killers were given and we were concerned she may have a fracture. We were very surprised when we saw a foreign object on the radiograph very close to the tibia bone. After examining the radiographs closely to ensure there were no bone fractures, we suspected the foreign object could be a cat's tooth! We found a puncture wound in the skin in the same region adding weight to our theory.
We performed an exploratory surgery yesterday under general anaesthetic and after 30 minutes of carefully dissecting through muscles and repeating x-rays to monitor progress, we did indeed find a 6mm fragment of a cat's lower canine tooth embedded deep in muscle.
This is the first time our vet Amanda has come across this and it has been a very interesting and challenging case. Meg is recovering very well after the surgery and it won't be long before she is out and about, hopefully not getting up to mischief!
From Lynne Bunce:
"Thank you so much for your care for Meg. Your service is amazing, I know we are paying for a service but your friendliness, welcome is amazing. You should create a page on Facebook and I could recommend all my friend to your practice!"
Our Facebook page is: CLICK HERE