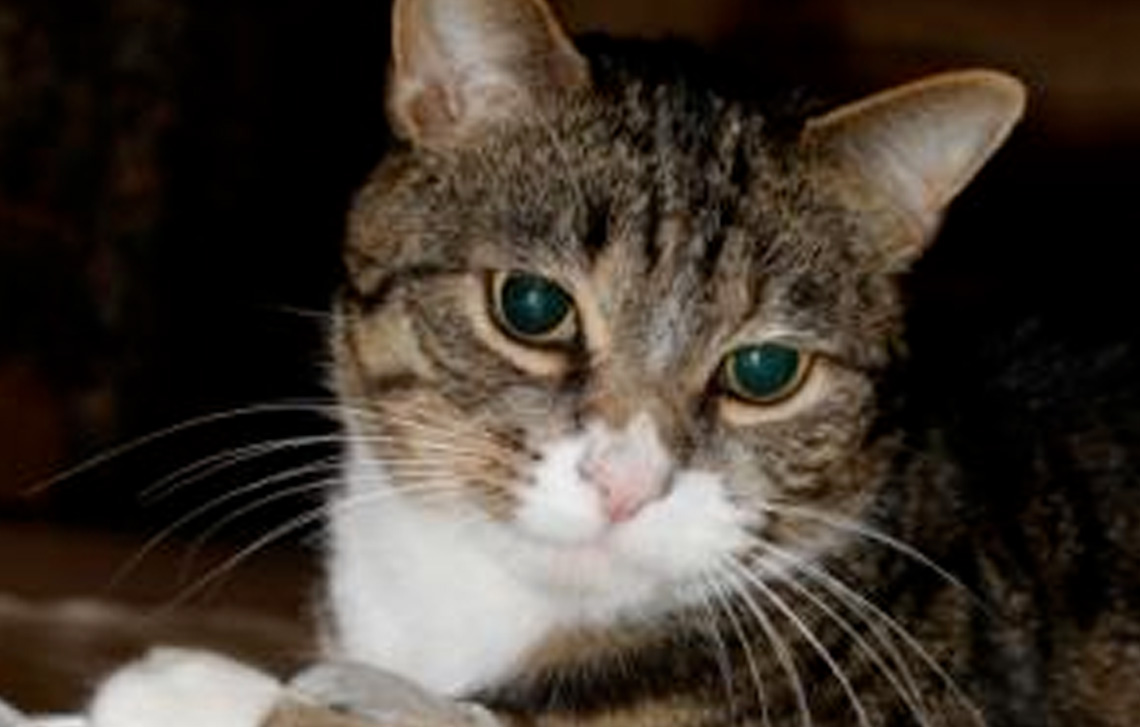 Read Tails' story below to find out how important microchipping is!
"Tails and his Microchip" told by his owner Christine Brown
Hello, here's my story about Tails & his microchip.
Tails arrived at our home as a kitten about 10 weeks old he soon fell in love with us and us with him. He was a bundle of fun getting up to lots of kitten tricks, climbing the curtains and walls and chasing anything that moved. He visited the vet and we decided to have him micro chipped it only took a second and then we all forgot about it. Time went by and he started to follow us when we went into the shop next door and when we did the newspaper round. We had to make sure we gave him his breakfast and shut the cat flap before making our escape out of the house to deliver the papers otherwise he would be following even outside his area, slunk down looking at us for security!
Then our road was resurfaced, large machinery turned up and the road surface was dug out it was very noisy. That first day Tails did not come in for tea, not normal at all, we called & called but no Tails. In the morning I thought he would be on the bed but nothing. Each day that went by we became more upset. We called the local vets & Cats Protection & the Council too see if a dead cat had been found…nothing. We made posters for lamp posts & put flyers in doors but nothing. A month went by then another after four months we went on holiday and the people we were with had a small dog, we decided we will get a little dog. That Sunday we came home thinking its very sad not knowing what happened to Tails but we need to move on.
The next day I'm cooking Monday dinner and the phone rings, a lady asked my name, my mind went what is she selling? Next question do you have a cat! Ahhh I used to have cat, can you describe him, yes, we think we have found your cat. Well… I was lost for words. She explained that she worked for the Cat Protection and had been called out see a cat who appeared to be neglected. The first thing they do is scan them and our details came up on the database. He had been living rough a few streets away just outside our search area! A family had put food out for him and went they went on holiday for 3 weeks & came back to find him still in the area and hungrier than ever they decided something was wrong and called them out.
We arranged to meet and I went into to see if he recognised me, he was slinking around and was very jumpy. I called him and his ears pricked up, I called again & he came and sniffed me then moved away. Then back to me again it was clear to everyone that he knew me. It was so emotional as the new family were offering him a home as well, I was so thankful to them for being honest & seeking advice. I brought him home and he settled back into family life. He had a limp and I was advised that he had dislocated his hip whilst fending for himself. He is a great mouser and I've had to net the pond. It took about six months before his purr came back.
But looking at him today asleep on the sofa, I wish he could talk. One thing is for sure if he had not been chipped we would never ever have been reunited. A couple of minutes is all it takes and no we do not have a dog just a very happy cat, who does not follow us anymore!